BLUFF COUNTRY GATHERING
Lanesboro, MN
Yes, the Bluff Country Gathering will continue in spite of the loss of organizer/director Gail Heil, the dreamer who thought a festival and camp dedicated to old time country music could thrive in the upper Midwest. What she began will continue according to her vision.
BLUFF COUNTRY GATHERING 2014 will be May 15-18.
We are leaving information about the 2013 Gathering up for awhile so those new to this event can get an idea of what we do.
The 2013 Gathering is dedicated to the memory of two stalwarts of old time music who passed in the last few months.
Jim Lansford, fiddler, banjo, guitar and mandolin player, and singer, was on the staff at the Bluff Country Gathering twice with his wife and musical partner Kim. He was devoted to the older musical styles, especially the music of the Ozarks where the Lansfords lived and Midwestern music of fiddlers like Bob Walters and Dwight Lamb. Jim is sorely missed in the old time community.
Fiddler Garry Harrison learned the local music of his native downstate Illinois the old-time way, from his father and in person at the homes of elderly players of the area. His great legacy of tune collecting, his book of folk songs and tunes "Dear Old Illinois", and his own recordings and original compositions give him a special place in old time music.
2013 Staff
Simply put, Alice Gerrard is a talent of legendary status. In a career spanning some 40 years, she has known, learned from, and performed with many of the old-time and bluegrass greats and has in turn earned worldwide respect for her own important contributions to the music. She is well-known for her performances and recordings with Hazel Dickens, the Strange Creek Singers, and Tom, Brad and Alice. Her powerful, hard-edged vocals and her instrumental mastery on rhythm guitar, banjo, and old-time fiddle make her one of the most revered old time musicians today. A tireless advocate of traditional music, Alice has won numerous honors, including an International Bluegrass Association (IBMA) Distinguished Achievement Award, a Virginia Arts Commission Award, the North Carolina Folklore Society's Tommy Jarrell Award. In 1987 she founded The Old Time Herald and served as editor-in-chief from 1987 till 2003. www.alicegerrard.com/
The Mostly Mountain Boys are Paul Brown, Terri McMurray, and John Schwab. Their concert will be packed with fabulous
old songs from the Southern mountains and Piedmont. You'll hear haunting banjo tunes, entertaining string band numbers, and rare fiddle classics learned in person from old timers famous and obscure. Paul Brown is a musician and NPR correspondent who started playing banjo when he was a kid. Today, in addition to banjo, Brown plays guitar and fiddle. He learned his core collection of Virginia and North Carolina songs directly from his mother and great singers including Fields Ward and Paul Sutphin. His fiddle tunes come from icons including Robert Sykes, Tommy Jarrell, Benton Flippen and Luther Davis. Brown studied banjo intensively with Jarrell, one of the greats of old time southern fiddle and banjo. Terri McMurray started banjo uke and banjo when she was pint-sized and later studied clawhammer banjo with Tommy Jarrell in North Carolina. John Schwab is a powerhouse old time guitar player of singular style, long experience and unmatched enthusiasm. He plays with The Hoover Uprights as well as The Mostly Mountain Boys. www.brownpaul.net/
Fiddler Magazine has called Dan Gellert "a commanding and uncompromising talent". Growing up in New Jersey, he was influenced by the 60s "Folk Revival" and began to master the banjo, guitar, and fiddle, and sing. He discovered the importance of taking the time to understand the music in a complete and detailed way, giving a lot of thought to what it takes to make the music sound and feel like the field recordings and old 78 rpm records he has listened to. He has made traditional music his own, performing it in an intense and personal style. http://orphonon.utopiandesign.com/
Like her father, Genevieve (Harrison) Koester was born and raised in the Charleston, Illinois area and plays the fiddle in the
old style of rural downstate Illinois. She also does a fine job of singing the lead on many of the group's vocal numbers and plays the guitar and mandolin on the occasional number that calls for it. Another native Midwesterner, Smith Koester gives new life to the sounds of the past with his old-time fretless banjo. Clifford Harrison on guitar is the third member making up White Mule.
Lynn "Chirps" Smith has played fiddle & mandolin for more than thirty years with a specialty in Midwestern dance tunes. He has played with the Indian Creek Delta Boys (with fiddler Garry Harrison), The Polecats, the Volo Bogtrotters, the Little Egypt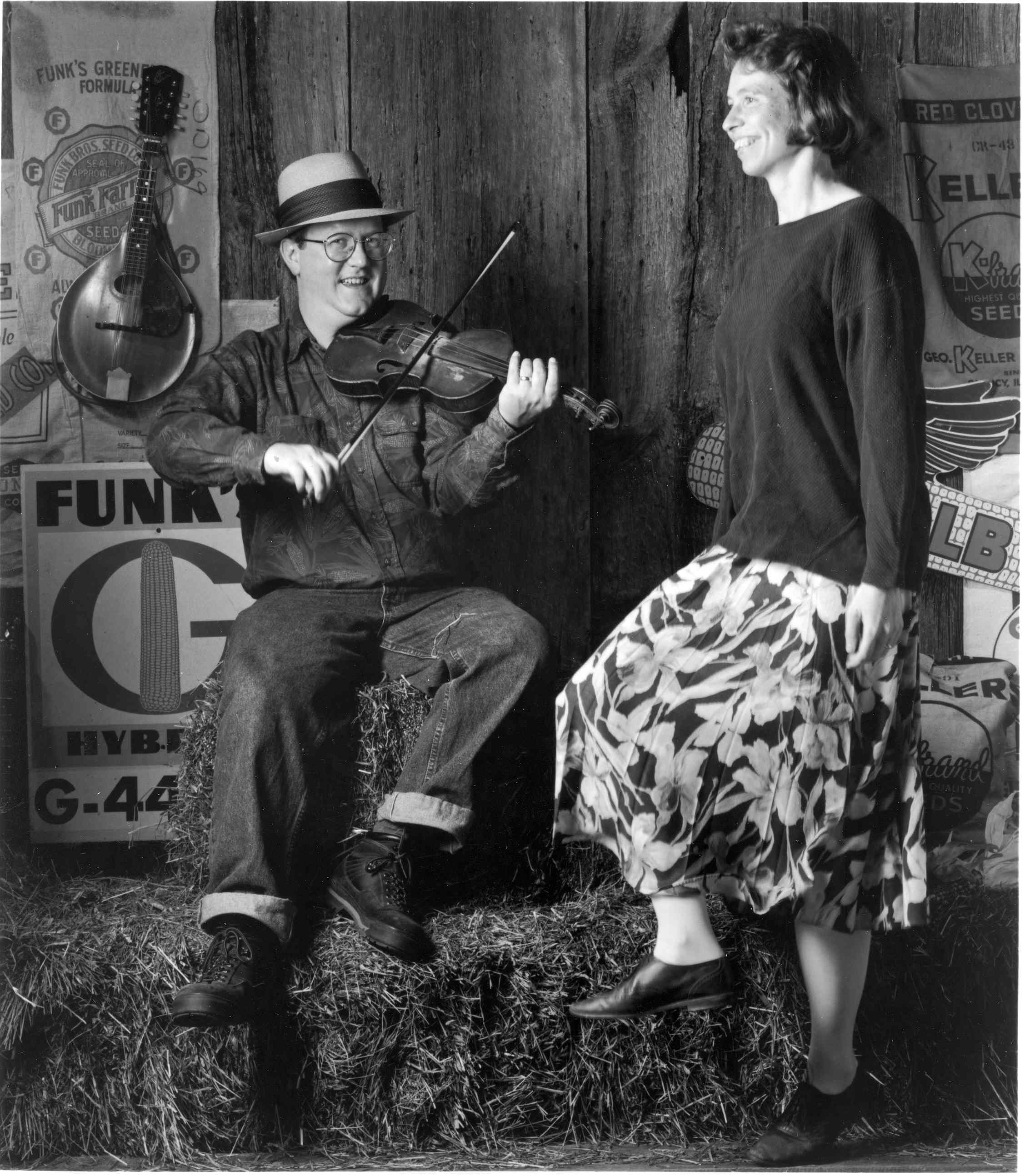 Pepsteppers, the VigorTones and the New Bad Habits. Smith has taught at workshops around the country and in 1997 was recognized as a master Illinois fiddler and awarded an Illinois Arts Council Apprenticeship Grant to pass along the tradition. Dot Kent will call the Saturday night Barn Dance and teach clogging at the 2013 Bluff Country Gathering. Winner of the clog dance competition at the Appalachian String Band Festival in Clifftop, West Virginia, Dot has taught and called dances all around the country. She has a talent for putting dancers at ease and making sure they have a fun time!

************************************************************************************************************************************************************************************

The Bluff Country Gathering is a four-day event presenting traditional American music, dance and singing styles. Workshops, conducted by a staff of nationally acclaimed musicians, singers, dancers and folklorists, are designed to pass along the traditions of old-time music to participants at all levels of experience. If you want to take workshops, you must register for the whole weekend. Cost is $200 and includes workshops, concert, dance and two noon meals. The registration form is at the bottom of this page.

Public Events: A Concert on Friday night features all the staff musicians. The Barn Dance on Saturday night includes live music by staff musicians and Dot Kent teaching and calling square and circle dances, plus a short clogging workshop. No experience or partner required for this dance.

CONCERT:      Friday May, 17 at 8:00 PM   $12.00

Tickets available at the door only.

BARN DANCE:  Saturday May 18 at 8:00 PM   $8.00 Tickets

available at the door only.




WORKSHOP SCHEDULE (subject to change)
FRIDAY

SCHEDULE

9:00-10:15
10:30-11:45
1:45-2:45
3:00-4:00
4 :15-5:00
Sons of Norway

Dan Gellert

Fiddle

Repertoire

OPEN

Genevieve & Smith

Tunes and songs from IL

OPEN

 

Sing Around-Bring a song to share or just come listen

OPEN

 

 

 

Alice Gerrard

Singing I

 

OPEN

Mostly Mtn Boys

Mini-Concert

 

OPEN

Community Ctr.

Council Chambers

Smith Koester

Clawhammer

Banjo

BEG/INT

Paul Brown

Terri McMurray

Fiddle/Banjo duets

INT

Dan Gellert

Fiddle

INT

Paul Brown

Finger Picking for Banjo I

BEG/INT

 

 

 

Community Ctr.

Kitchen Area

Alice Gerrard

Backup Guitar

BEG-INT

John Schwab

Guitar backup styles

INT

Terri McMurray

Clawhammer

Banjo

INT

Genevieve Koester

Fiddle

BEG/INT

 

 

Community Ctr.

Gym

Chirps Smith

Mandolin

INT

Chirps Smith

Mandolin

ADV

Dot Kent

Calling Squares

Workshop I

OPEN

Dot Kent

W/Chirps on fiddle

Clogging

OPEN
SATURDAY

SCHEDULE

 9:00-10:15
10:30-11:45
1:45-2:45
3:00-4:00
4:15-5:00
Sons of Norway

Paul Brown

Fiddle Repertoire

w/John S

OPEN

Alice Gerrard

Singing II

OPEN

Ask Alice- Q&A

Session

 

OPEN

Fiddle Showcase

Dan, Paul, Chirps, Genevieve

OPEN

 

 

 

White Mule

Mini-Concert

 

OPEN

Community Ctr.

Council Chambers

Terri McMurray

Clawhammer Banjo

BEG/INT

Dan Gellert

Clawhammer Banjo

INT/ADV

Dan Gellert

Fiddle

ADV

Community Ctr.

Kitchen Area

Chirps Smith/Dan Gellert

Open Jam

INT

Genevieve Koester

Fiddle

ADV

Paul Brown

Finger Picking for Banjo II

INT/ADV

Smith Koester

Clawhammer Banjo

INT

Community Ctr.

Gym

John Schwab

Guitar backup

w/ Chirps

INT/ADV

Dot Kent

Calling Squares Workshop II

OPEN
BEG- Very little experience with your instrument, need basic skills.

INT- Have basic skills, be able to tune your instrument, play scales or chords, play a few tunes.

ADV- Very at ease with your instrument and want to learn tunes quickly, focus on technique.

OPEN- These workshops may be repertoire, concerts, or other types that require no skill level.

NOTE There will be one-hour medium-pace jams led by staff, both Friday and Saturday nights after the public events. They will be held in the Kitchen Area of the Community Center. Fri-White Mule Sat-Mostly Mtn Boys

****************************************************************************************************************

REGISTRATION: $200 for all events. If you plan to take workshops full registration is required. No refunds after May 1 .

Please fill out the entire registration form.

Name___________________________________________________________________

Address_________________________________________________________________

Phone_______________________ Email_____________________________

Make checks payable to Bluff Country Gathering and mail to: 18287 Gap Drive, Spring Grove, MN 55974. We do not take credit cards.

Name/address on the roster? (The roster will be available to all students) Yes___ No___

Meals: Choose one only Veggie___ Meat___ If you have food allergies or special needs, you must notify us before May 1st at 507-498-5452.

Any student age 16 or under must be accompanied by a fully registered parent or guardian.

Interested in volunteering? Most of our registered students help out doing small jobs at the weekend, like setting up tables and chairs for meals and concerts, helping in the kitchen, sitting at the sales table during the public concert or dance, to name a few.

Even the smallest help is greatly appreciated. If you check yes, someone will contact you about matching you to an agreeable task.

Yes, I'd like to help___ No, not this time___

____________________________________________________________________________________________________________________________________

Housing is not provided by the Gathering. Lanesboro has many B&Bs, boarding houses, motels and campgrounds in town and nearby. For a listing of these go to www.lanesboro.com

or call the tourist office at 800-944-2670.

Thursday Night Potluck There will be a potluck dinner starting at 6 pm. Bring a dish to share. Plates/cups/napkins/silverware will be provided. The kitchen is available only to the lunch caterers and will not be available for cooking/ cleaning up/storing leftovers.

Sunday Potluck Starting at 9:30 am

Friday and Saturday lunches will again be provided by our favorites, Bob and Diana Suckiel, along with their fabulous crew!

What else to bring Recorders are a must, since most of the workshops will be taught aurally.